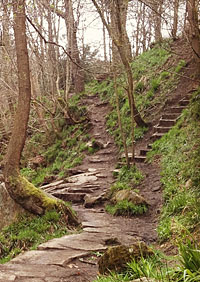 Welcome to Path-Wise with Pam Winter
''Be taught now, among the trees and rocks,
how the discarded is woven into shelter,
learn the way things hidden and unspoken
slowly proclaim their voice in the world.
Find that inward symmetry
to all outward appearances, apprentice
yourself to yourself, begin to welcome back
all you sent away, be a new annunciation,
make yourself a door through which
to be hospitable, even to the stranger in you.''
David Whyte ''Coleman's Bed'' ('Where Many Rivers Meet' Many Rivers Press 1990)
Welcome to Path-Wise. On this website you can read about a number of pathways I offer in my work with people which is underpinned by my values; a deep belief in wholeness- that we are sensing, feeling, experiencing and imaginative beings. Our culture tends to privilege 'thinking' over all of these and this I believe has a restrictive impact on our functioning, health and wellbeing. It is also based on the value of interconnectedness-that we are not separate, isolated individuals but connected and interdependent with one another and our world. I also deeply value compassion and my work is motivated by my belief that it is only through cultivating acceptance and compassion for oneself that enables us to learn, grow, understand and accept others.
These ways of working have emerged from my own lived experience and personal journey, beautifully illustrated in David Whyte's poem above, where he invites us to find, learn about and welcome back all the discarded, wounded aspects of ourselves, and then, with compassion begin to hear what those 'hidden and unspoken' parts of ourselves have to say. My journey from a troubled childhood has led me to being curious and committed to learning how healing happens and thus to a lifetime of supporting others, to move from disconnection towards more connection with the self, with others and with our home, the earth. This journey to wholeness is one we never 'arrive' at but it is the commitment to make the journey itself that counts, and one that can offer us the fruits of becoming more self aware and conscious, more compassionate and able to live more wisely in this beautiful world we seem intent on destroying.
Counselling
can help if you are experiencing difficulties functioning in your present life and want to explore and understand your past and present self.
For example,you might be struggling with depression, anxiety, or a mixture of both, with symptoms such as continuously worrying, feeling negative about yourself, not being able to sleep,or switch off.
You might have ongoing low self esteem or be struggling with a loss or having to make a difficult decision or change in your life.
You might be feeling that your personal relationship or work is getting on top of you.
If so then you could benefit from counselling and a supportive, professional relationship to enable you to:
Explore your thoughts and feelings,understand and accept your personality
Find new ways to resource and help yourself to make the changes you want to make
Get back a sense of enjoyment, purpose,and meaning in your life
Outdoor Therapy
is helpful for some clients as working in nature can be part of the healing process, click on the link above for further information
Executive coaching
usually takes place within an organisational context and tends to be more goal orientated and future focused. It might explore issues of self development, confidence and strengths building,the impact of personality type on work role and leadership development.
Poetry Therapy & Expressive writing
are powerful methods of personal development which can enable you to develop creativity and build resilience.
Follow the links above to read more about which pathway might suit you.
I am an experienced and accredited counsellor
with over 30 years experience of working with people. I offer counselling to individuals, including outdoor therapy and developmental groups and workshops which often also have an outdoor component. My groups and workshops focus on developing health, well being and resilience using expressive writing and poetry therapy.
Contact me to discuss your needs and to set up an appointment. See 'About me' for further information.
My practice rooms are based in Marsden and all groups and workshops takes place here. The village is served by the Trans Pennine Leeds/Liverpool train line.